Taking inventory of older blog posts results in the need to occasionally update and refresh the ones that overtime have grown stale.  The core information remains relevant, but home decor and accessories offerings do not.  Summer's official debut is as good a time as any to inject a breath of fresh sea air into a post featuring suggestions for your coastal home decor consideration.
Spending quality times on the Louisiana, Mississippi, Alabama and Florida Gulf Coast beaches makes for many memorable experiences.  Regardless of what body of water or sandy beach I'm at, the vibe is all coastal to me. If you love a season, place, or activity so much, isn't it a natural wish to want to add a touch of it to your home decor?  Let's bring it home with these stylish coastal home decor suggestions selected with casual coastal elegance in mind. 
The Biscayne Barrel Wicker Chair pairs a classic look with casual form and function- the hallmarks of coastal decorating style.  To quote a Places In The Home favorite, if it ain't broke, don't fix it.
Burnham Home Designs Hasting Collection Distressed Oak Arm Chair
Colors in the coastal landscape, skies and waters inspire the coastal color palette.
Better Homes & Gardens
At first I thought what drew my eye to the Nate Berkus for Target skirted slipper chair was the word savvy shoppers love- clearance.  After carefully studying the form, fabric and function I decided this super chic affordable chair is a coastal home decor must have.
Skirted Slipper Chair by Nate Berkus for Target
Dining chairs?
Foyer accent chair?
Bedroom spot chair?
Did I mention it is on clearance?
Monarch Collection Geoffery Console from Century Furniture
The Geoffrey Console from Century Furniture is an elegant investment piece for coastal living in high tide style.
LR Resources Sonora Prague Indoor Area Rug  ||  Safavieh Braided Area Rug  ||   Tradewinds in Seafoam
Under the sea underfoot area rugs in serene shades of coastal colors gorgeously work the room.
Safavieh Ajani Grey 3 Tier Rack
The seaside cocktail hour is set to coastal style for the it's five o'clock somewhere crowd.
Silver Octopus Sculpture ||  Admiral Shaker  ||  Turtle Cocktail Napkins  || 4 piece Canape Plates  ||   S/12 Silver Shell Cocktail Picks  ||  Canoe Paddle Swizzle Sticks ||  Jumping Fish Vase
Kokopo Ultramarine Shade Antique White Outdoor Table Lamp
Stunning lamp shade of blue.
Nautical Shell Table Lamp
Shore Bench from Serena & Lily 
---
Bay Court Hanging Lantern  ||  Marlowe Galvanized Cage Ceiling Light  || Crystorama Coco Collection Antique Silver Mini Chandelier  ||  Solar System Chandelier  ||  Broche 8-Light Shaded Chandelier  ||  White Twig Chandelier
John McCall Interiors ~ Alexander James Photographer 
Daisy Hanging Light from Soane Britain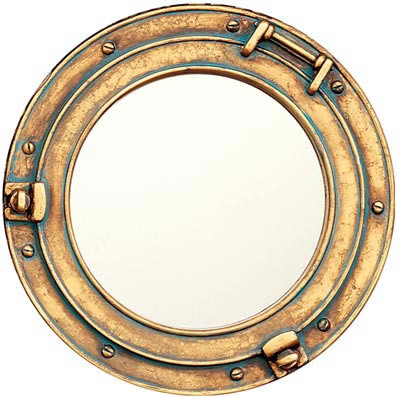 Porthole Mirror w/ Verdi Green Finish
Originally I sourced a canvas print in coastal blues and greens accented in strokes of gold, but this black and white print of beach dunes and deepening clouds seemed an excellent choice for focal point drama.  I'm careful to avoid suggesting home decor items that run the risk of being too on the nose or worse, too typical.  Beach dunes typify coastal areas, but the striking black and white effect not only draws the eye but steps away from the expected.
Granton Small Antique White Ceramic Seashell on Stand