There's no place like home, but there's beautiful places and spaces that do a fabulous job of stylishly standing in.  For the holidays, memorable milestone days or discovering new highways and byways, the gift of travel travels well.
Merriam-Webster gives more than one definition of the word vacation, but the general scenario we're all looking for is:
Vacation:
1:  a period spent away from home or business in travel or recreation
2:  a respite or a time of respite from something
One of the best and most memorable Christmas gifts I ever received was a trip to Las Vegas.  The window of time from "Hey baby, let's go to Vegas" to "we would like to begin the boarding process" was super small. Fun in the desert sun details kept me searching, hopping and quite frankly, second-guessing if I had covered the travel information bases.  An informed traveler is a savings savvy traveler of time, money and second-guesses.
Where do you want to go on vacation?  Eight lovely words, don't you think? Marriott does.  Marriott International is a leading hospitality company with over 3,800 properties in over 74 countries and territories around the world. Choosing the destination is only one part of the exploration equation.  You've got sights to see and places to go.  Hello, Marriott Destinations information for all things know where to go because being in the destination loop need not be an exhaustive exercise in travel what to dos.  If ringing in the New Year New York City style is on the travel agenda,  this New York City's Five Boroughs infographic from the team at Marriott New York Hotels is a must read.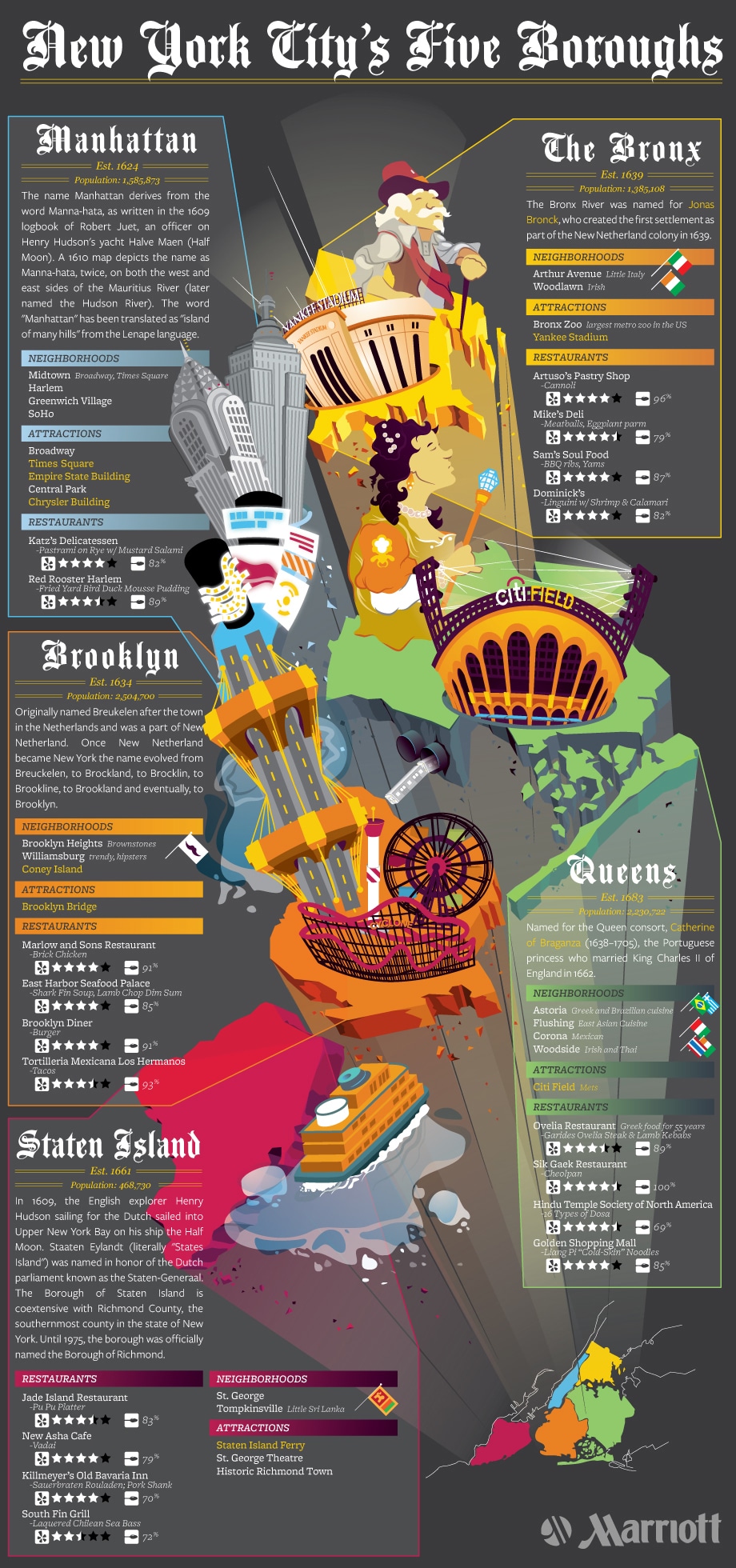 New York City's Five Boroughs – An infographic by the team at Marriott New York Hotels
Bright neon lights of another city calling your name?  Even if you're on a budget, Las Vegas can be a great destination for a fun, yet inexpensive getaway.  Here's an example of valuable Welcome to Las Vegas info from the in the know folks at Marriott Las Vegas Hotels.  Planning your trip during the weekdays or the off-season time of July-August results in deals hotter than the desert temps.  Cha-ching!  That's one way to win in Vegas.  The Las Vegas on a budget infographic gives the scoop on how to get the most out of your trip.
Las Vegas on a Budget – An infographic by the team at Marriott Las Vegas Hotels
From first hand travel experience, destination information saves valuable time (the most important travel commodity) and gives you the all important pre-trip info on the places high on your list of what to see and where to go.  Attention to detail is an important aspect of successful travel plans.  Travel in savvy style and pretty up your travel plans with Marriott Destinations information.
I was selected for this opportunity by Clever Girls Collective, however all content and opinions expressed here are my own.