This week's Fetching Friday features signature design and decor interpretation, fashionable words, a perfect blend of antiques and modern, a summer settee, a full on fall preview, and a question for you all.
fetch·ing
/ˈfeCHiNG/
adjective
adjective: fetching
attractive.
synonyms: attractive, appealing, sweet, pretty, good-looking, lovely, delightful, charming, prepossessing, captivating, enchanting, irresistible
As illustrated in the Domino magazine feature "High Style Made Easy", Interior designer Mary McDonald captures decorating lightening in a bottle in this office kitchen with her signature bold design choices.
Decorating in a straightforward fashion strictly based on the function and purpose of the space does not always a statement make.
Doesn't this office/workspace with its playing it not so safe accents and accessories pop a bit more than a conventional just get the job done look?
The pairing, mixing and blending of antiques with modern and contemporary style elements is a decorative endeavor I highly recommend trying.
Nothing ventured, nothing gained.
Style at Home
A Marina Rust, Penobscot Bay, Maine summer home and a pink settee seasonally in Vogue.
This Traditional Living Room by Springfield Interior Designers & Decorators Nathan Taylor for Obelisk Home defines full fall glory in apples, feathers, rich colors and warm accents detail.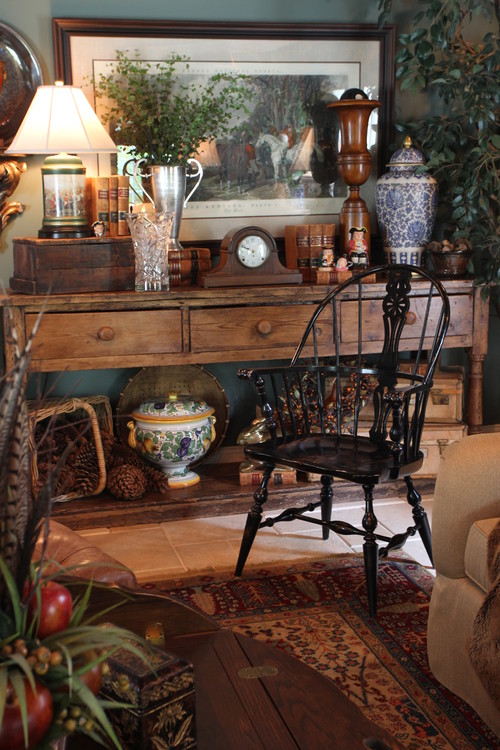 What favorite person, place or thing will be a part of your weekend plans?
I hope you have a most fetching Friday.