Flea market and antiques shopping is all the rage, and why not?
Discovering fabulous finds from yesteryear or the quintessential pièce de résistance races the heart and feeds the soul of a true treasure hunter.
Many flea market aficionados regard Paris and the Les Puces de Saint-Ouen Market as the holy grail of flea markets – the epitome of ooh la la chic and vintage style.
As for flea markets here in the good old USA,  isn't it always flea o'clock somewhere?
I've frequented the best of the best- the rusty, chippy, in need of tender love and repair cream of the flea market crop.
Lonny Magazine
My one and only item purchased from a Paris flea market is a vintage Louis Vuitton suitcase.
Factoring in the signs of age, gentle use and the honey patina,  this piece is a keeper.
Dave the Builder brokered a deal for this little goodie as a surprise Christmas gift.
A  fellow interior designer friend of ours purchased the suitcase for her husband while antiquing and fleaing in Paris.
Now don't hold me to it, but this Louis Vuitton suitcase may just be the closest I ever get to an actual Paris flea market.
It is a dream trip on the list, but in the meantime the finds this side of the Eiffel Tower satisfy the decorative joie de vivre.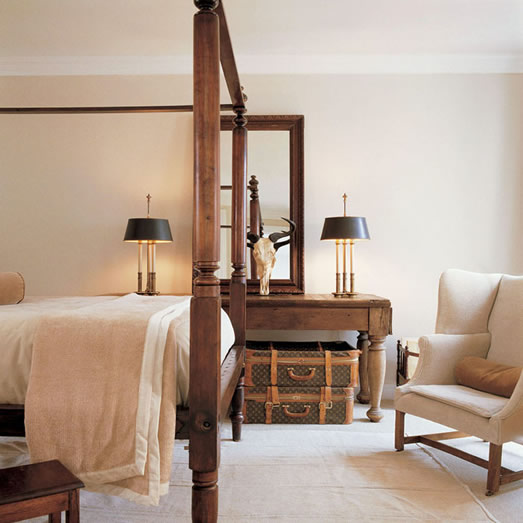 Darryl Carter – Benjamin Moore
If there is a better way to spend a weekend afternoon than perusing the antique shops of south Louisiana I've yet to find it.
It's a wonderful substitute for an afternoon in Paris and only a couple of hours from my driveway.
GPS in this case stands for Grand Paris Style, and we're off to become lost in the European flair of decorative furnishings and continental treasures. 
Antiquing and fleaing at flea markets is a weekend ritual of absolute bargains and beauty in the eye of  the treasure, trinkets and trash beholder.
The appeal of flea market and antique shopping  is rooted in curiosity, appreciation, vintage love, and the art of the deal.  Avid, seasoned, and even novice flea market treasure hunting and antique shoppers know of what I speak.
Do you brake for antique and vintage treasures?