It is said that a gambler usually doesn't realize he or she is in a run of good luck until it is over.
Dave the Builder and I have been known to play a game or two of blackjack, and we can attest to that theory.
My skills of recognition are far better honed in the game of decor and design.
I've addressed trends before, and although I don't go all in on trends, I do pay attention to the run and the factors of popularity, the traction of the trend and the staying power of the look.
My spot on spot print observations of late have zoomed in on a look that is not new however, dare I say improved?
Pitstop the Dalmatian
The pairing of black and white and variations of white (winter white, beige, cream, dover and the entire off white family) is nothing new in the color combination world, and the spot print thing definitely is nothing new, but the decorative interpretation and implementation of these trend favorites into home sweet home design and decor freshens the spin.
Like inspiration, this spot on spot print look is everywhere I source, pin, tweet and like.
Ballard Designs
The design and decor rumblings could strictly be a coincidence, but I sense a trend resurgence with traction.
Domaine Home – Photography by Michael Graydon.  Mr. Graydon is true class act and an extremely generous talent!
Apartment Therapy
The first hint of a possible trend to come is evident in the renewed interest via postings and pinnings of a classic wallpaper pattern.
Tiffany Richey Designs via DecorPad
Thibaut Anniversary Tanzania wallpaper in black on cream spins a fresh look on a traditional style.
A trend by definition indicates current popularity of a style or preference.
Veranda
 A good trend evolves into great classic, and a classic never goes out of style.
My gush and gawk over this spot on spot print trend is the stuff decorating and redecorating projects are made of.  What trends have you spotted lately?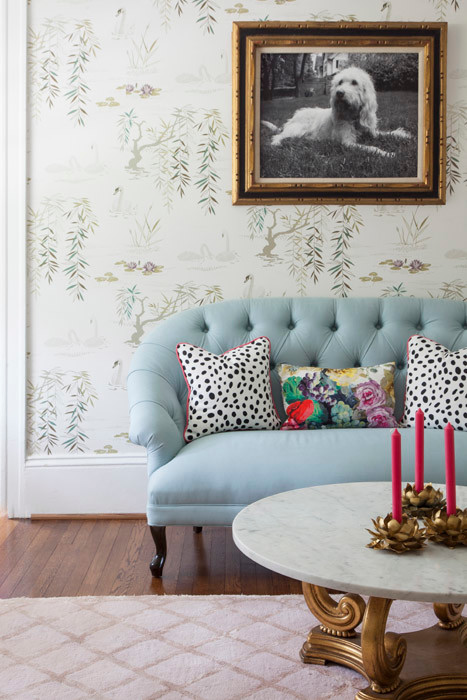 Bala Cynwyd Design-Build Firms