Leopard print.
I'm wild about its power presence in all its spot on spotted glory.
A classic pattern in both fashion and interior design, leopard print love is based on the look, texture and ability to add a punch of decorative prowess to the piece it adorns.
Leopard print is the shake it up-style it up friend of fashion, fabric and space.
Traditional Home
I'm still standing by my unwavering opinion in regards to interior design and decorating.
I'm not wired for complication or confrontation, nor am I a fan of rocket science philosophy when it comes to our homes and what we associate beauty and style with.
It's your home, your money, your tastes and your traditional, shabby, simple, extravagant, over-the-top, funky or fabulous decor choice.
My opinions and suggestions strictly and stylishly provide an idea to guide the course.
Let's look at leopard print as an example.
For me, the use of a leopard print accessory or accent has got to be tempered and tasteful.
Natural Rugs Togo Cowhide 5′ x 7′ Area Rug in Leopard
Gold Leopard Glam Table Lamp – (Set of 2 )
Fashion guides us to certain principles of style.
Coco Chanel said it best when she advised the following:
"Once you've dressed, and before you leave the house,
look in the mirror and take at least one thing off."
-Coco Chanel
I don't profess to remotely be on the same level of fashion or style expertise as Coco Chanel, but I will build upon her words.  
Once the space is dressed, and before the it's perfect stamp of approval is awarded, take one accessory out of the total equation.  
Once removed, look at the space with a discerning eye and decide if the absence of the removed accessory makes or breaks the look.
Vogue
Too much of a good thing can be a great thing or a tacky thing.
I've got loads of experience with this life application.
My darling mother is wholeheartedly convinced if one of something is good, two must be absolutely fabulous.
This logic works at certain times in limited situations.
Off the top of my head, I can think of one situation where two is better than one.
Southern Living – Photo by Laura Negri Childers 
In most instances, two days of vacation is certainly better than one.
Okay, I'll give her that.
Exceptions to the rule and all that aside, two of too much often leads to a fashion or interior design misstep.
Refer to your less is more manual.
In certain designing and decorating instances, blurring the lines between specified intention and oh, this will work results in a curated creation.
This design print of this particular piece is marketed as a dalmatian print, however, it's perfectly style spotted for a leopard print décor interpretation.
A classic color, texture or pattern is visually capable of carrying the space as the focal point.
I like to think this is the reason accessories and accents exist.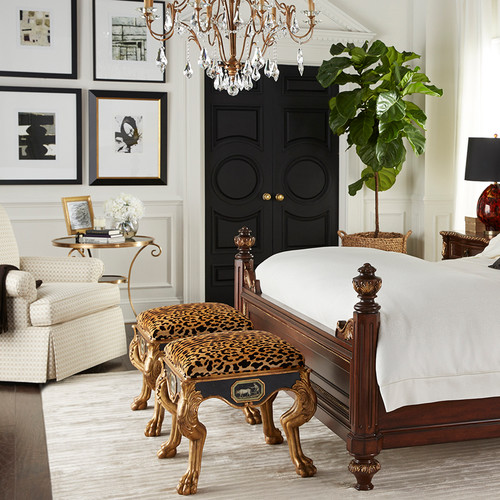 My design and décor rule for leopard print is straight forward.
A well appointed space will only further impress the eye when there is a spot of leopard print present.
I get a kick out of referring to leopard print pieces as the ultimate spot accent.
Inquiring and designing minds want to know.
Leopard print.
Like it?
Hate it?
Leave it?
Love it?