Super Copper Tastic Excellent à la Decorocious!
That's one way to sum up the beauty of the copper home decor accessories.
The patina, richness and versatility of copper lends a distinctive presence and truly unique color palette choice to interior design accents and home decor accessories.
Williams Sonoma Professional Copper Sauté Pan
Copper is not only a timeless trend choice, but a gorgeous heavy metal of ever current never outdated mass appeal.
A bold neutrality (isn't that a design oxymoron?) accurately describes the pop of color copper kitchen accessories.
The KitchenAid® Metallic Series 5-Qt. Stand Mixer in satin copper blends style and quality with kitchen must have.
Williams-Sonoma
Pine Cone Skinny Napkin Rings, Set of 4
Antique Finish Decor Tray Copper – Hearth & Hand™ with Magnolia
Currently Coveting Copper!
Warehouse of Tiffany Havira 3-light Antique Copper Chandelier with Crystals
Atelier Werner Fraters Décoration
Rustic Industrial Dome Pendant 
A stroke of antique treasure hunting afforded me the perfect opportunity to own a large double handled solid copper serving bowl.
As soon as I unpack it (gotta find it first) from storage it will again grace the kitchen gallery wall.
When it came down to countertop selections for our kitchen remodel I knew the direction I was going in, but how much of my choice to incorporate into the scheme was the question I struggled with.  
Dave the Builder and I drove to Home Depot and soon the question was answered.
We selected copper half round rope metal molding wall tile trim to enhance the tile back splash.  
From the kitchen to the front exterior of the house, copper accessories make their presence known.
When we moved into our home I accessorized the exterior with copper and copper inspired treated items.
I chose treated items for their resistance to weather and time.
The copper mailbox, copper address plaque and copper weathervane look as new today as they did when purchased.
Spacious Brown Copper Metal Wall Mounted Mailbox
4 in. Antique Copper Floating House Number
I was so tempted to go with copper gutters!
Copper items left to nature's patina process only get better with age.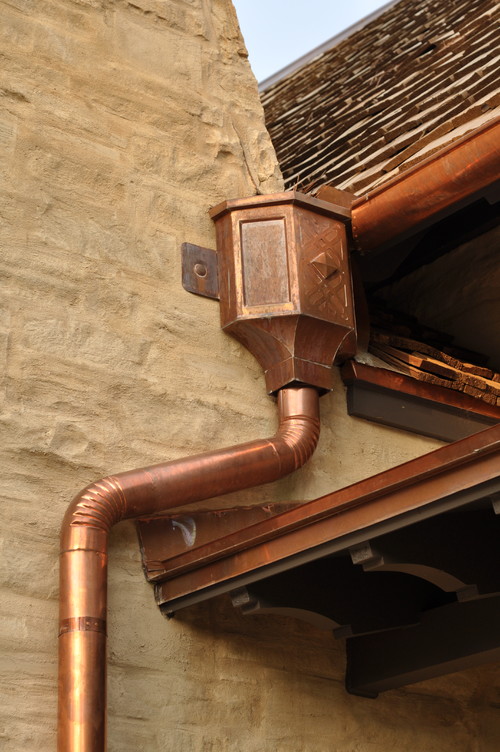 A copper boiling pot makes a perfect decorative accessory.
The point of new, vintage or antique copper is copper style, copper patina and the Super Copper Tastic Excellent à la Decorocious decorative effect.
The wide range of availability and price points of copper interior and exterior decor items is in our favor.
Flickr
The wide range of availability and price points of copper interior and exterior decor items is in our favor.
Copper remains an elegant and traditional choice of color and material to enhance any space and complement any taste.