Our local weatherman just made my day with the forecast that pays- sunny with an expected high of 78 degrees.
Can I get a spring is in sight!
The first day of spring didn't necessarily bring spring like weather to some, but let's look at the iced tea, water and lemonade glass half full.
Good things and warm temps will come to those who patiently bundle up this week.
Wedding Chicks– Photographer: Fondly Forever Photography
Now that the weatherman and the calendar have established that spring is in sight, one's thoughts naturally turn to spring break vacation, daycation and backyardcation destination ideas.
There's places to go, people to see and parties to plan.
I received an email from our friends at Pinterest inviting me to create a place board of my ideal dawn to dusk daycation.
Any guesses where we're going?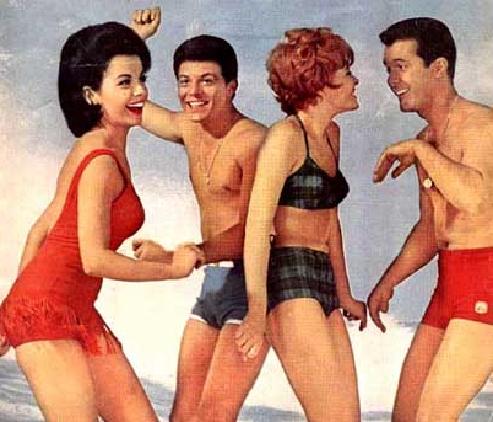 Disney Blog
Times have definitely changed and styles have evolved, but fun in the sun with our SPF50+ on is still highly recommended.
Traditional Home
What colors do you see in your spring into summer color palette future?
This season's color crush is brought to you by Sherwin- Williams Aloe and Sherwin-Williams Bunglehouse Gray.  
I love any excuse to contemplate and coordinate bedding with spring and summer colors and textures.
The Barbara Barry Poetical Celadon Collection is about as let's spring and summer update inspiring as it gorgeously gets.
If the color blue had a scent Pure Grace by Philosophy is it.
The fresh and light scent makes a nice linen spray, and it's my summer in a bottle scent suggestion.
An acquaintance of ours has recently purchased a beach property in need of a decorative update or two.
Too many miles between us and certain time constraints makes this project a prime candidate for my edecorating services.
I've been perusing shops and sites for furnishings and accessories that say beach chic.
I'll share the design board with you all soon.
Your comments are always welcome!