Summer is not only the season of outdoor living.
Warm weather and longer days come together to frame many a home improvement narrative.
We here at Places In The Home are prime examples of this. If it's summer, and it's the weekend, and the normal home maintenance honey do's have been met and mastered, Dave the Builder is looking for project to start.
This picture is from one such project, one I must admit I am glad Dave the Builder convinced me to approve.
Dave convinced me that the refrigerator from our other house would be a better fit in our present home.
I took this picture before the panels were painted.
By no means is this my idea of striking kitchen cabinet color combinations.
An email from This Old House appeared in my inbox last week with a subject line of targeted interest.
Kitchen design and decor makes the top five on my design and decor list, so you can only imagine how quick I opened the email when I read the subject line tag "Cabinet Color Combos That Really Cook."  
Some of the kitchen cabinet color combinations I liked, one I really loved (see below) and a few just didn't do it for me.
Different paint strokes for different folks!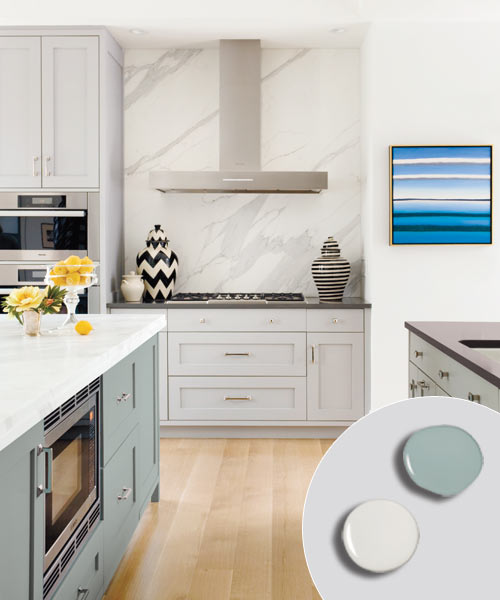 In my post I Spy Summer: Summer Trends, I sourced a pair of outdoor throw pillows in the classic color combination black and beige.
The color combination has stayed on my mind.
Good interior design and decorating features will do that.
Experimental color pairings come and go in the world of interiors and exteriors, but classic color combinations trump trend and time.
TV exec Alix Jaffe's California kitchen
Most of us realize the white kitchen is not fading in trend or popularity.
As gorgeous as a white kitchen is when it is done right, painted cabinet doors and drawer fronts in show your true colors color can be the stars of the kitchen design show.
Paint grade cabinet door and drawer front materials put durability and affordability at the top of the let's give this experimenting with kitchen cabinet color combinations thing a try list.
Coming back to the classic color combinations conversation-
I could not resist the temptation to phone a client asking if I could make an amended presentation for her decorative consideration.
Of course the answer was an enthusiastic yes.
We design and decorating minded never tire or bore of new ideas.
Odd numbers even the look.
Pottery Barn
Finding myself deep into kitchen cabinet color combinations territory, I thought it prudent to discover and share a selection of kitchen cabinet color choices.
Lisa Mende Design  ~ Junior League of High Point, North Carolina, 2015 Designer Showhouse
Cabinet color choices usually complement the overall palette choice, or at the very least the decor style.
Take the statement a step further with decorative cabinet and drawer hardware.
This instant update option brings the look together.
Cabinet hardware is the jewelry of cabinetry.
The end result from testing and trying color and/or color combinations on kitchen cabinets and drawer fronts may color you impressed and inspired to make a kitchen redo your summer project.
Better Homes & Gardens
In the life and the hands of the project minded,  the lazy days of summer are highly overrated.